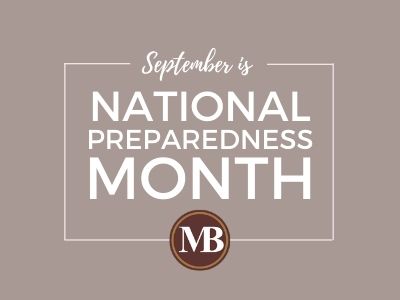 Safeguard Finances In Preparation for Natural Disasters
The devastation of Hurricane Ida and the ongoing COVID-19 pandemic are stark reminders that natural disasters have profound effects on communities and the residents who call them home. In recognition of National Preparedness Month in September, Malvern Bank and the Independent Community Bankers of America (ICBA) are offering tips to help Americans secure their financial documents before disaster strikes so they can concentrate on what is most important—their immediate safety and that of their loved ones.
ICBA and Malvern Bank offer the following tips to help consumers plan for the unexpected and regain their financial footing once a crisis passes.
Create an emergency savings account for use in a crisis. Keep a small amount of cash at home to purchase supplies, fuel or food in case electronic funds access is not immediately available.
Prepare a family emergency communications plan to reach loved ones following an emergency.
Gather financial and critical personal, household and medical information and make copies. Password-protect digital copies and store printed documents and USB drives in waterproof and fireproof containers.
Document and insure property to help assess their value and replacement costs. Renters, homeowners and auto insurance don't cover all aspects of a disaster so you may require specialized coverage like earthquake and flood insurance.
Contact your insurance agent or visit the Federal Emergency Management Agency's (FEMA) website, to determine if you need a flood insurance policy. For more helpful financial preparedness tips, download FEMA's Emergency Financial First Aid Kit.
Regarding the ongoing COVID-19 pandemic:
Be cautious when sharing personal financial information, such as your bank account number, social security number, or credit card number.
Do not click on links in texts or emails from people you don't know. Visit government websites, like cdc.gov/coronavirus, directly in your internet browser.
Be on the lookout for scammers who may try to take advantage of financial fears by calling with work-from-home opportunities, debt consolidation offers, and student loan repayment plans.
Contact the Federal Trade Commission if you receive messages from anyone claiming to be a government agent or if you believe you've been a victim of a COVID-19 related scam.
"Community bankers are there for their customers and communities through all challenges," ICBA President and CEO Rebeca Romero Rainey said. "As a trusted financial advisor, your community banker can help evaluate financial preparedness before these unexpected, stressful events occur to help protect you and your loved ones from the long-term effects of these unplanned emergencies and jumpstart your financial recovery."