Paycheck Protection Program - Malvern Bank & John's Heating and A/C Services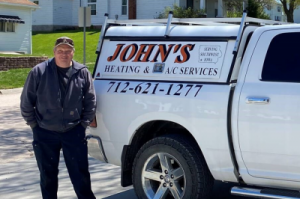 For over 20 years, John's Heating & A/C Services in Stanton, Iowa has offered quality, 24-hour service in rural southwest Iowa. As a one-stop shop, this small business provides "big service in small towns," focusing on installation and repairs for heating and air conditioning units.
Since 2004, John Wenstrand, owner of John's Heating & A/C Services, has been banking at Malvern Bank in Malvern, Iowa. He feels Malvern Bank offers outstanding, personal service. As a locally-owned bank, Wenstrand said, <Malvern Bank has been>…"a successful stop for resources and advice in my financial adventures, including both business and personal. They have told me what I've wanted to hear as well as what I have not wanted to hear—always being completely honest when helping me make decisions."
Wenstrand's business has been directly impacted by COVID-19 because it's a mystery as to what's going to happen. He said, "Nobody knows; therefore, our customers have been reluctant to have services performed, big or small. Many projects have been put on the back burner until more facts are known." Because customers are holding off on projects, John's Heating & A/C Services has felt these negative effects hit their bottom line. Fortunately, the PPP loan has provided eight guaranteed weeks of constant support during a time of uncertainty. Wenstrand said, "It's helping my business both financially and emotionally."
Malvern Bank embodies what it means to be a "community bank" by being flexible with their services, supporting local, and giving an individualized banking experience to their customers. Wenstrand is grateful to be working with Malvern Bank, and said, "There are three things that make a community. The bank, the businesses, and the people. If they're all on the same page, it has a chance of working very well, and that is what is happening in Malvern Bank, the Malvern businesses, and the Malvern people. Everyone benefits from one another." John's Heating & A/C Services is one of 124 small businesses who have benefitted from a PPP loan from Malvern Bank. This bank has awarded more than $10 million dollars to assist small businesses.
Wenstrand said, "<This experience> was great because of the superior and intense service and action that our local bank provided to get this done for us in just a couple day's time. Huge applause to the lending team for contacting us and working on a Saturday to get everything finalized." According to Wenstrand, Malvern Bank works like his 95-year old dad's philosophy, which is "going back to the basics to what has worked in the past and what will work in the future."