Have Your Children Help Plan Meals
Many of us are spending a lot more time at home these days, which means a lot more home cooking. Whether this is exciting or daunting to you, home cooked meals can be the perfect opportunity for a lesson in finances with your children.
Have your child create a menu for a whole meal. This can be as creative or simple as you'd like: they can design a centerpiece, set the table, shop for the ingredients, make the meal, and clean up after. If they choose Italian food, they can research Italy and what makes food "Italian".
Learning how to cook a meal is certainly educational by itself, but you can also add a financial lesson into the dinner. Discuss the cost of the food items, and compare that to eating out at a restaurant with a similar menu. Maybe you go shopping for the ingredients together, on a set budget.
One of our own employees did just this with their child last week, see their menu and pictures below.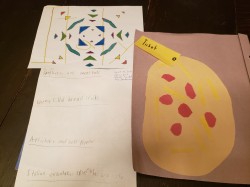 The menu:
Spaghetti and meatballs
Artichokes and red bell peppers
Grain-free breadsticks
Homemade chocolate truffles