Cybersecurity is Everyone's Responsibility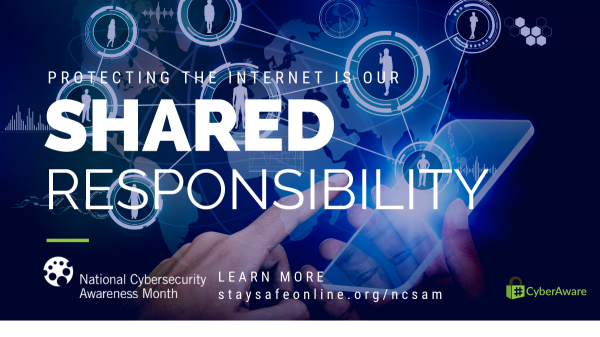 We lead internet-connected, digital lives. From our desks and homes to on the go, we work, learn and play online. Even when we are not directly connected to the internet, our critical infrastructure – the vast, worldwide connection of computers, data and websites supporting our everyday lives through financial transactions, transportation systems, healthcare records, emergency response systems, personal communications and more – impacts everyone.
Cybersecurity is the mechanism that maximizes our ability to grow commerce, communications, community and content in a connected world.
October is National Cybersecurity Awareness Month (NCSAM). Cybersecurity is our shared responsibility and we all must work together to improve the nation's cybersecurity. Cybersecurity is not just the responsibility of governments, companies, groups or individuals. Everyone shares the responsibility for cybersecurity – from the average smartphone user to a corporate CEO.
The theme this week is Make Your Home a Haven for Online Safety.
Every day, parents and caregivers teach kids basic safety practices like looking both ways before crossing the street and holding an adult's hand in a crowded place. Easy-to-learn life lessons for online safety and privacy begin with parents leading the way. Learning good cybersecurity practices can also help set a strong foundation for a career in the industry. With family members using the internet to engage in social media, adjust the home thermostat or shop for the latest connected toy, it is vital to make certain that the entire household including children – learn to use the internet safely and responsibly and that networks and mobile devices are secure.
Visit StaySafeOnline for great resources to help your family stay safe online!