April Marks Community Banking Month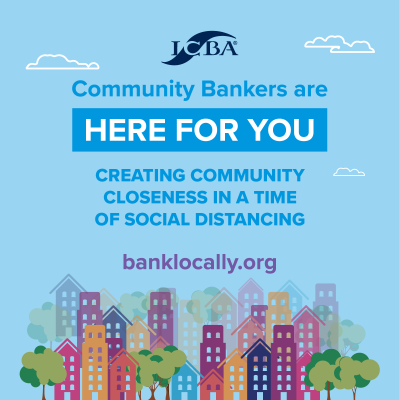 The late 1700s established the First Bank of the United States. The idea of a "community bank" didn't begin until the mid-1800s, making banking more local. April 2020 is designated as National Community Bank Month. During this month, we can celebrate and recognize our local community banks for their positive influence in Mills County.
What does it mean to be a "community bank?"
"Community" centers on place and people. A "bank" focuses on deposits (money coming in) and loans (lending money out), while keeping its customers' money safe. While credit unions, large chain banks, and community banks offer similar financial services, community banks have more flexibility, engage in local decision-making, and are relationship-centered.
Community banks are more flexible. Jay Burdic, owner of Malvern Bank, said, [Community banks] are more flexible because all the decisions are made here rather than with a corporate office." Whether it's financing a new façade for a local business, extending a small business loan, or matching a city grant, community banks are more willing to back local projects and businesses, allowing small town communities to grow and thrive.
Community banks engage in local decision-making. When a community bank makes financial decisions, they think about the impact they have on their community. Supporting local youth sports and music programs, county fairs, music events, building projects, and more, community banks contribute financial support that delivers great opportunities for a better standard of living for residents. Kate McGann, Malvern Bank Executive Vice President, said, "During this time, Malvern Bank has increased our community support by purchasing team member lunches daily from our local restaurants."
Community banks are relationship-centered. The Cheers theme song, "Where everybody knows your name," is a mantra that holds true for community banks. Nicki Poort, Malvern Bank's Vice President of Deposit Operations, said, "[Community banks] are in a unique position versus the big banks because we know customers by name, develop relationships, and care about their well-being; it's our personalized service that sets us apart." Hearing an actual voice for each phone call highlights that personal touch.
During this month, take the time to thank your area community bank, for they have given so much to the local community. Malvern Bank is a community bank whose mission is "to build community by supporting education, innovation, and growth while delivering a banking experience that is both authentic and individualized."

By Tina bakehouse, Chief Creative Officer Malvern Bank