Coronavirus Updates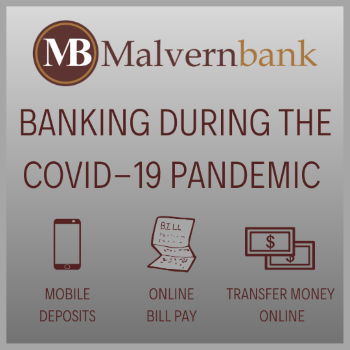 In response to a positive COVID-19 case in Mills County, Malvern Bank is further restricting access to our lobby as of April 7, 2020.
Effective immediately, customers are not permitted to enter the lobby. The drive through still remains open and drive through services are expanded to offer paperwork signings, in addition to daily banking needs.

We ask that customers use the ATM or remote banking options when possible to free up the drive through lane for essential, in-person, services at this time.

All loan questions and information must be discussed with your loan officer or a bank executive via phone or email at this time.

Customers who need to access their safe deposit box must call the bank to set up an appointment, must first take and pass a Malvern Bank COVID-19 questionnaire, and must abide by the CDC's social distancing recommendations throughout the transaction.
Notice: Malvern Bank has split their staffing among rotating teams, in an ongoing effort to prevent the spread of COVID-19 and to reduce disruptions should a staff member become exposed to the virus. At this time, there is no known case of COVID-19 at Malvern Bank.
We will be monitoring the situation day-by-day, and will give advance notice when we resume normal business hours. Our first concern is the health and safety of our customers, and staff, in these trying times.
We'd like to remind you of the variety of ways you can do your banking:
The Malvern Bank Team appreciates your understanding and flexibility as we navigate through this time together, and we will continue to keep you informed as things change. Please stay safe.
HELPFUL COVID-19 BLOG POSTS FROM MALVERN BANK
https://malvern.bank/10-ways-to-support-local-businesses-during-covid-19.html
https://malvern.bank/how-to-transfer-money-on-the-mobile-app.html
COVID-19 CORONAVIRUS RESOURCES
https://idph.iowa.gov/Emerging-Health-Issues/Novel-Coronavirus
https://www.millscoia.us/index.php/covid19
https://www.cdc.gov/coronavirus/2019-ncov/community/home/index.html